www.MRS-BOOTS.com
........player exklusiv worn / issued boots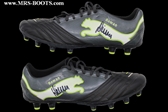 Roman Weidenfeller's Puma match worn boots. Both boots are signed and
personalized with "ROMAN" and Nr. 1. Roman wore this boots during the domestic double season 2011/2012 with Borussia Dortmund. During his youth years, he
played for Sportfreunde Eisbachtal. Weidenfeller then made his professional
debut in 1997, after earning the Best Goalkeeper Award at the 1997 FIFA U-17
World Cup Weidenfeller moved to Borussia Dortmund in 2002 on a free transfer as a possible replacement for Jens Lehmann, who moved to Arsenal in 2003.