www.MRS-BOOTS.com
........player exklusiv worn / issued boots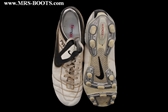 Marco Strellerís match worn Nike boots. Both boots are personalized with "PIPPI
10". A full international since 2003, Streller played at the 2006 FIFA World Cup.
He was previously in the squad for the 2004 European Football Championship,
but pulled out due to injury. During a 2006 WC qualifier against Turkey, he was
lashed at and kicked by Turkey player Alpay ÷zalan. At the tournament's final
stage he missed a spot-kick during his side's penalty shootout against Ukraine,
who emerged victorious.