www.MRS-BOOTS.com
........player exklusiv worn / issued boots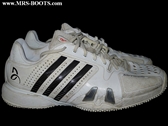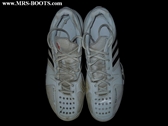 Novak Djokovic's Adidas match used shoes. This special made to measure shoes
were worn during Wimbledon 2013. Both shoes are personalized with Djokovic's
Logo and a flag of Serbia. All England Club asked Djokovic to change his Adidas
shoes after his quarterfinal win over Tomas Berdych because the nubs on his
shoes gave him an unfair advantage. The Grand Slam Handbook states that grass
courtshoes "with pimples or studs around the outside of the toes shall not be
permitted." Photographs show that Djokovic's shoes had pimples on sides of his
toebox, which would have given him more traction when he slides on the outside
of his foot. Tournament referee Andrew Jarrett asked Djokovic to file down the
nubs, which he did before the semifinals. It's the second shoe-related
controversy of the tournament after the All England Club asked Federer to
abandon his orange-soled Nikes because they were deemed to violate the club's
"predominantly white" dress code. Federer changed his shoes after the first round
and then lost to Sergiy Stakhovsky in his next match.