www.MRS-BOOTS.com
........player exklusiv worn / issued boots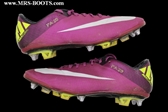 Philippe Coutinho's Nike match worn boots. Coutinho wore these boots during the
season 2011/2012 with Inter. These made to measure boots are embroidered
with: "PA 29" and a flag of Brasil. Coutinho started his footballing career as part
of Vasco da Gama's youth system and was successively bought by Italian Serie A
giants F.C. Internazionale Milano in 2008, at the age of 16, for €4 million.
Coutinho stayed at Vasco on loan until his 18th birthday, becoming a first team
player for the Brazilian side despite his very young age. Coutinho's move to
Internazionale became effective on July 2010, after he turned 18, with new head
coach R. Benítez and chairman M. Moratti being quoted saying that "Coutinho is
the future of Inter". He made his official debut in an Internazionale jersey as a
substitute during the Nerazzurri's 2–0 defeat at the hands of Atlético Madrid in
the 2010 UEFA Super Cup final on 27 August 2010.