www.MRS-BOOTS.com
........player exklusiv worn / issued boots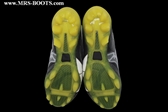 Mauro Camoranesi's Puma match issued boots. Both boots are personalized with
"CAMORANESI". Camoranesi played for Italy at UEFA Euro 2004 and was also part
of Marcello Lippi's Italy team which won the 2006 FIFA World Cup. He has been
capped 55 times by Italy and has scored five goals, the first of which came in
Italy's 2006 World Cup qualifier away to Belarus on 7 September 2005, which the
Italians won 4-1.