www.MRS-BOOTS.com
........player exklusiv worn / issued boots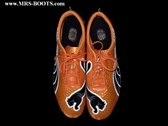 Usain Bolt's Puma Spike shoes. (from 2009 World Championships in Berlin, 100m WR 9.58) This special made to measure shoes are signed and personalized with
"WHO FASTER?", "THERE CAN ONLY BE ONE" and a flag of Jamaica. He is the first
man to hold both the 100 metres and 200 metres world records since fully
automatic time measurements became mandatory in 1977. Along with his
teammates, he also set theworld record in the 4×100 metres relay. He is the
reigning Olympic champion in these three events, the first man to win six Olympic
gold medals in sprinting, and a five-time World champion. He was the first to
achieve a "double double" by winning 100 m and 200 m titles at consecutive
Olympics (2008 and 2012), and topped this through the first "double triple"
(including 4x100m relays). His 2009 record breaking margin for 100 m, from 9.69
(his ownprevious worldrecord) to 9.58, is the highest since the start of fully
automatic time measurements. His achievements in sprinting have earned him
the media nickname "Lightning Bolt", and awards including the IAAF World Athlete of the Year, Track & Field Athlete of the Year, and Laureus Sportsman of the Year (twice). He is the highest paid athlete ever in track and field. He has been called the world's most marketable athlete and the greatest athlete ever.