www.MRS-BOOTS.com
........player exklusiv worn / issued boots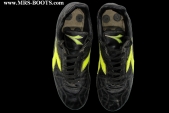 Roberto Baggio's match worn Diadora boots. Roberto wore these boots during the
season 2002. These exclusive made to measure boots embroidery reads:
Valentina and Mattia (Roberto's kids), 10 (shirt number) and his signatur. Baggio
won both the Ballon d'Or and the FIFA World Player of the Year in 1993. He is the
only Italian player ever to score in three World Cups. He is also one of the top 5
all-time goalscorers for Italy. Baggio is known as Il Divin Codino (The Divine
Ponytail), for the hairstyle he wore for most of his career and his Buddhist
Background.