www.MRS-BOOTS.com
........player exklusiv worn / issued boots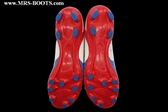 Ibrahim Afellay's Puma match worn boots. Both boots are made to measure and
personalized with "IBI AFELLAY" and a flag of Morocco. (shoe tongue)
Ibrahim wore this boots during the preseason 2012/2013 with FC Barcelona.
After both the Moroccan and the Dutch national teams managers selected him
for their squads, he was caught in the dilemma to either play for the Moroccan
national team, because of his Moroccan descent, or to play for the Dutch team,
the Netherlands being his place of birth and residence. He ultimately decided to
play for the Dutch national team despite the heavy competition for places in
midfield. He made his international debut in a Euro 2008 qualifier against
Slovenia on 28 March 2007. On 12 October 2010, Afellay scored his first
international goals in a Euro 2012 qualifier against Sweden.