www.MRS-BOOTS.com
........player exklusiv worn / issued boots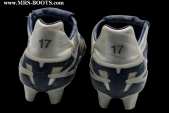 Mesut Özil's Adidas Predator match worn boots. These boots were worn during
the season 2007 with FC Schalke 04. He has been a member of the German U-21
team since 2007. On 5 February 2009 he was nominated for the Germany national
football team. The boots are personalized with "Mesut", "Özil" and his shirt-nr.17.