www.MRS-BOOTS.com
........player exklusiv worn / issued boots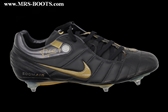 Luis Figo's Nike Air Zoom Total 90 match worn boots. This boots were worn
during the Fifa World Cupô 2006 in German. Figo captained the team leading
it to the semi-finals, where they were beaten 1-0 by France. This was the best
result for Portugal in the tournament since 1966. A penalty, scored by French
Zinedine Zidane stood as the winning goal. The third place playoff caused some
controversy as Figo did not start. Figo was: 2000 European Footballer of the
Year, 2001 Fifa World Player of the Year, and was named amongst the FIFA 100.
Both boots are personalized with the name of his daughters (Martina, Daniela,
Stella), Portugal Flag and signature.